The MOTO-DUDE DOMAIN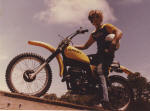 Here's one more personal homepage, old school-style, on the Web. I'm a motorcycle rider (not a biker) from the 1970's. My preferred brand of two-wheeler is SUZUKI. In fact, the only bikes I have owned are Suzukis. When your brand has exceptional performance, reliability, value, and world class engineering from the finest Japanese engineers--why settle for something less?
I'm currently riding a '08 V-Strom 650. I learned to ride on a mini-bike bought from a Bottom Dollar store in Clute, in the early '70s. My first Suzook was the trail bike known as the TC90. In high school I worked part time to move up to a Suzuki GT380 2-stroke triple and later the first RM250 to race MX.
The big thing for me as a teenager was being a daredevil. This was in the hey-day of Evel Knievel. He was tackling 18 car jumps on a regular basis and I felt I could work my way up to that distance with relative ease on a long-travel dirt bike as opposed to a 350 pound Harley flat-tracker. I was an X-gamer before they existed. With meager resources and support, I built a take-off ramp 32 feet long and 7 feet high, and jumped six cars, twice. Alas, I never made it to the Astrodome. Today's X-gamers make six car jumps (or 18 for that matter) look pretty tame!
After high school, I bought new bikes with alarming regularity: all Suzukis, of course. I've always been impressed with the brand's engineering, value, performance, and reliability. I owned a GS1000, GS 450S, TS 250, a couple more RM 250s and a 125, DR500, GS650L--all in the span of 5 years (I had my mid-life crisis too early). After 5 years without a motorcycle (identity crisis?), I bought a second-hand Suzuki Madura 1200 (fantastic motor, this one), and a couple years later my 1991 GSX1100G, which I enjoyed for 17 years. In 2006 I picked up a running '75 GT380 as a hobby bike.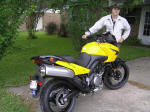 Over the last few years, I have been increasingly aware that I have not bought a new bike since 1992. Raising kids is expensive. The last three years saw me looking at V-Stroms, I even have the brochures for the '05, '06, and '07 models. Finally, I decided that was enough--I probably won't live forever--and bought an '08 V-Strom 650. Great bike!
First new bike since 1992! The 2008 V-Strom DL650.
I was known in the 1970s' as Moto-Dude, I now go by Scorch.
---
BIKES OWNED
I probably win the prize for most loyal Suzuki owner. Not that I have anything against Yamaha, Kawasaki, or Honda, they make great bikes, but I guess I'm unusually brand loyal. My first bike was a Suzuki TC90, and my next one was the venerable GT380. Those bikes were so solid and reliable, they were so well-engineered, that anytime I went looking at bikes, I always found a Suzuki that suited me best. There were several non-Suzukis I looked long and hard at: Honda's Sabre, V-Max, Kawasaki 500 Mach III and Z1 900. Even the Harley Super Glide 1200 (back when I was a kid and the Glide was the biggest bike available, plus H-D had not turned into a Yuppie brand). But I'm wed to the big 'S'. Also, I have an aversion to spending $15,000 on a slow, retro-tech motorcycle just for the name or because it was made in Italy.

5HP mini-bike from Bottom Dollar store
1973 Suzuki TC90 - first real motorcycle, had a dual range transmission.
1974 Suzuki GT380 - Wow! The coolest for a 15 year old boy. Cost me my license.
1976 Suzuki RM250 - first year for the mighty RM, allowed me to race MX and jump cars
1975 Suzuki GT750 - bought it used, kept it a week, returned it to the owner, it had compression problems
1979 Suzuki GS1000 - great bike, handled well, fast! Made a trip to the Grand Canyon on this bike.
1979 Suzuki TS250 - nice trail bike for my gf
1980 GS450S - a really nice inline twin. Light and narrow, this bike was great fun.
1979 Suzuki RM125 - more racing
1981 Suzuki DR500 - Made this bike street legal, I could ride a wheelie at 60mph for miles
1982 Suzuki GS650L - Decent bike, a nice little four in a luke-warm cruiser config.

1984 - 1989 - years in the wilderness, no motorcycle. Don't ask.

1985 Suzuki Madura V4 1200 - bought used, best motor ever. Did a lot of work restoring and polishing it. Was rear-ended, welded the frame back in shape, then pretty much killed it in Mexico with tar. Wish I still had this one.
1988 Suzuki RM250 - The last round of racing, and in the fabled "Over 30" class at last!
1991 Suzuki GSX1100G- went into the dealer to buy the VX800 but my buddy talked me into a bigger bike. Great machine, kept this bike for 17 years. Sold to a good guy in Jan 2009.
2007 Suzuki RMZ450 - One last shot at glory...and broken bones.
1990 Suzuki DR250S - picked up a nice dirt bike off of Craigslist to teach my daughters to ride (and to sneak out on trails alone on).

Bikes I currently own:
1975 Suzuki GT380 - my second 380, I'm the only guy in town with a 2-stroke bike, still own today (I also have a 3rd 380, for parts). GT380 Restoration page
2008 Suzuki V-Strom 650 - just bought, first new bike since the 1991 G. 320 miles and counting, riding every day! V-Strom Service Log
1985 Suzuki Madura V4 1200 - Madura Part Deux! 20 years later, another Madura. There's just something about that V-4 power that I can't live without.


---
GALLERY



Aug. 1972, my first motorcycle...well, mini-bike. It came

from Bottom Dollar in Clute

, my grandparents Hazel and Oscar Boyd paid half of the $180 to help me get it. This road monster had a 5hp engine, suspension on both ends (not sure they really did much, though), and a variable-speed belt transmission, which meant no shifting (gears? What are gears?). I was 12 years old.




1974 - My first real motorcycle, for real. 1974 Suzuki TC90.

It took me a day to master the extremely complex affair of a clutch and gear shifter, not to mention separate brakes!

But imagine my surprise when, after a week or so, I discovered my bike had a dual range tranny and my father had set up the bike in Low Range (max speed, 22 mph). Suddenly the little trail bike could go 50 mph! Wheee!


Transformed into an Evel Knievel clone! Yes, this was what I aspired to do for a career, to capitalize on my lack of brains and jump cars for fame and glory. Why let common sense hold me back?!




Moto-Dude was born.





Bars in the "Cafe Racer" position, also known as "I was too poor to buy clip-ons, narrow bars, or much else".




Some guy in town had a strange habit of parking his Mustang next to a tractor supply offloading ramp. I'm sure I don't have to tell you what happens next...




The summer before I turned 16 I bought a 1975 GT380. This, to me at the time, was a big, powerful, road-going motorcycle. Two-stroke! Three cylinders! Four exhausts! (huh?) Yeah, this was one sweet ride. It didn't take long before Johnny Law took notice, either. What else do small town cops have to do?


Banned from public roads, Moto-Dude took to the air. In Dec 1977, on my trusty RM250, I jumped six cars, twice. Yes, that's my Starsky & Hutch Gran Torino on the end. My jump was filmed and the footage was recently discovered in the Library of Congress!



Motocross racing in Danbury, TX and Rio Bravo, Houston


1979 GS1000, 19

79

TS250

Same GS1000, different tank & fairing color


RM125 DR500 GS650L

1991 GSX1100G - Restoration page

1985 Madura V-4 1200cc
Madura restoration & crash page



My Suzuki Stable


2008 V-Strom DL650



Newest edition to our Suzuki stable: Natasha and DR250S


GT380 #2

20 years later, another Madura. There's just something about
that V-4 power that I can't live without.
---
SUZUKI & MOTORCYCLE LINKS
SUZUKI & MOTORCYCLE FORUMS
---
Last revved up: 07/07/2013