I'm Neal Stevens, the Moto-Dude, a motorcycle rider (not a biker) from the 1970's. My preferred brand of two-wheeler is SUZUKI. In fact, the only bikes I have owned are Suzukis. When your brand has exceptional performance, reliability, value, and world class engineering from the finest Japanese engineers--why settle for something less?
I'm currently riding a '08 V-Strom 650. I learned to ride on a mini-bike bought from a Bottom Dollar store in Clute, in the early '70s. My first Suzook was the trail bike known as the TC90. In high school I worked part time to move up to a Suzuki GT380 2-stroke triple and later the first RM250 to race MX.
The big thing for me as a teenager was being a daredevil. This was in the hey-day of Evel Knievel. He was tackling 18 car jumps on a regular basis and I felt I could work my way up to that distance with relative ease on a long-travel dirt bike as opposed to a 350 pound Harley flat-tracker. I was an X-gamer before they existed. With meager resources and support, I built a take-off ramp 32 feet long and 7 feet high, and jumped six cars, twice. Alas, I never made it to the Astrodome. Today's X-gamers make six car jumps (or 18 for that matter) look pretty tame!
After high school, I bought new bikes with alarming regularity: all Suzukis, of course. I've always been impressed with the brand's engineering, value, performance, and reliability. I owned a GS1000, GS 450S, TS 250, a couple more RM 250s and a 125, DR500, GS650L --all in the span of 5 years. Then after a divorce, I stopped riding cold turkey. After 5 years without a motorcycle, I bought a second-hand Suzuki Madura 1200 (fantastic motor, this one), and a couple years later my 1991 GSX1100G , which I enjoyed for 17 years. In 2006 I picked up a running ' 75 GT380 as a hobby bike .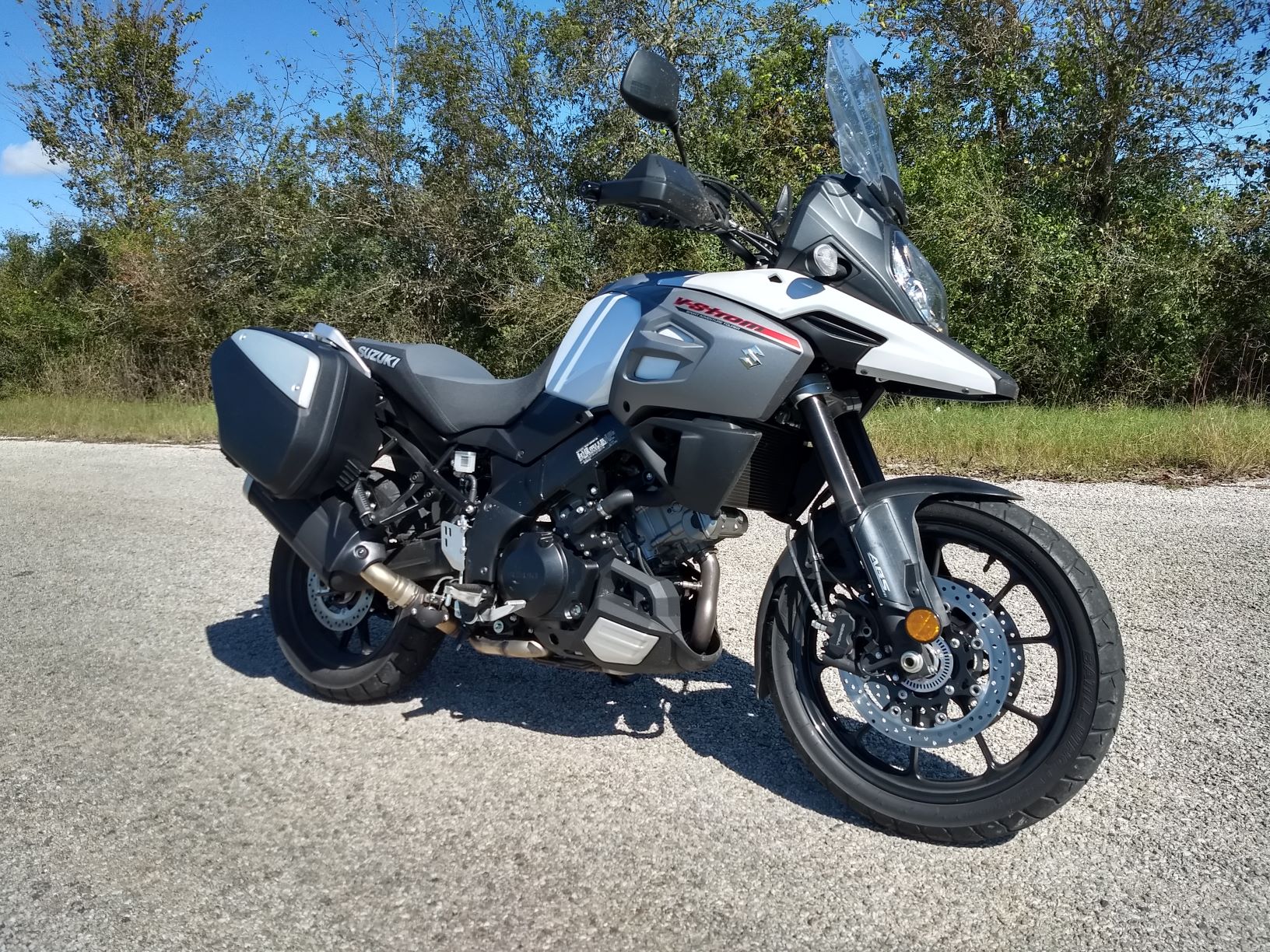 My latest Suzuki-- 2018 V-Strom 1000. All the handling of the 650 with twice the power.
I was known in the 1970s' as Moto-Dude, I also ride as Scorch.
---
BIKES OWNED
I probably win the prize for most loyal Suzuki owner. Not that I have anything against Yamaha, Kawasaki, or Honda, they make great bikes, but I guess I'm unusually brand loyal. My first bike was a Suzuki TC90, and my next one was the venerable GT380. Those bikes were so solid and reliable, they were so well-engineered, that anytime I went looking at bikes, I always found a Suzuki that suited me best. There were several non-Suzukis I looked long and hard at: Honda's Sabre, V-Max, Kawasaki 500 Mach III and Z1 900. Even the Harley Super Glide 1200 (back when I was a kid and the Glide was the biggest bike available, plus H-D had not turned into a Yuppie brand). But I'm wed to the big 'S'. Also, I have an aversion to spending $15,000 on a slow, retro-tech motorcycle just for the name or because it was made in Italy.

5HP mini-bike from Bottom Dollar store
1973 Suzuki TC90 - first real motorcycle, had a dual range tran smission.
1974 Suzuki GT380 - Wow! The coolest for a 15 year old boy. Cost me my license.
1976 Suzuki RM250 - first year for the mighty RM, allowed me to race MX and jump cars
1975 Suzuki GT750 - bought it used, kept it a week, returned it to the owner, it had compression problems
1979 Suzuki GS1000 - great bike, handled well, fast! Made a trip to the Grand Canyon on this bike.
19 79 Suzuki TS250 - nice trail bike for my gf
1980 GS450S - a really nice inline twin. Light and narrow, this bike was great fun.
19 79 Suzuki RM125 - more racing
198 1 Suzuki DR500 - Made this bike street legal, I could ride a wheelie at 60mph for miles
198 2 Suzuki GS650L - Decent bike, a nice little four in a luke-warm cruiser config.

1984 - 1989 - years in the wilderness, no motorcycle . Don't ask.

1985 Suzuki Madura V4 1200 - bought used, best motor ever. Did a lot of work restoring and polishing it. Was rear-ended, welded the frame back in shape, then pretty much killed it in Mexico with tar. Wish I still had this one.
1988 Suzuki RM250 - The last round of racing, and in the fabled "Over 30" class at last!
1991 Suzuki GSX1100G- went into the dealer to buy the VX800 but my buddy talked me into a bigger bike. Great machine, kept this bike for 17 year s. Sold to a good guy in Jan 2009.
2007 Suzuki RMZ450 - One last shot at glory...and broken bones.
1990 Suzuki DR250S - picked up a nice dirt bike off of Craigslist to teach my daughters to ride (and to sneak out on trails alone on).

Bikes I currently own:
1975 Suzuki GT380 - my second 380, I'm the only guy in town with a 2-stroke bike, still own today (I also have a 3rd 380, for parts) . GT380 Restoration page
2008 Suzuki V-Strom 650 - just bought, first new bike since the 1991 G. 320 miles and counting, riding every day! V-Strom Service Log
1985 Suzuki Madura V4 1200 - Madura Part Deu x! 20 years later, another Madura. There's just something about that V-4 power that I can't live without.
2018 V-Strom 1000 - After tens years on the V-Strom 650, what else could I ask for, other than more power and ABS. Really nice instrument panel, too. Finally I can stop using the trip meter as a range indicator.